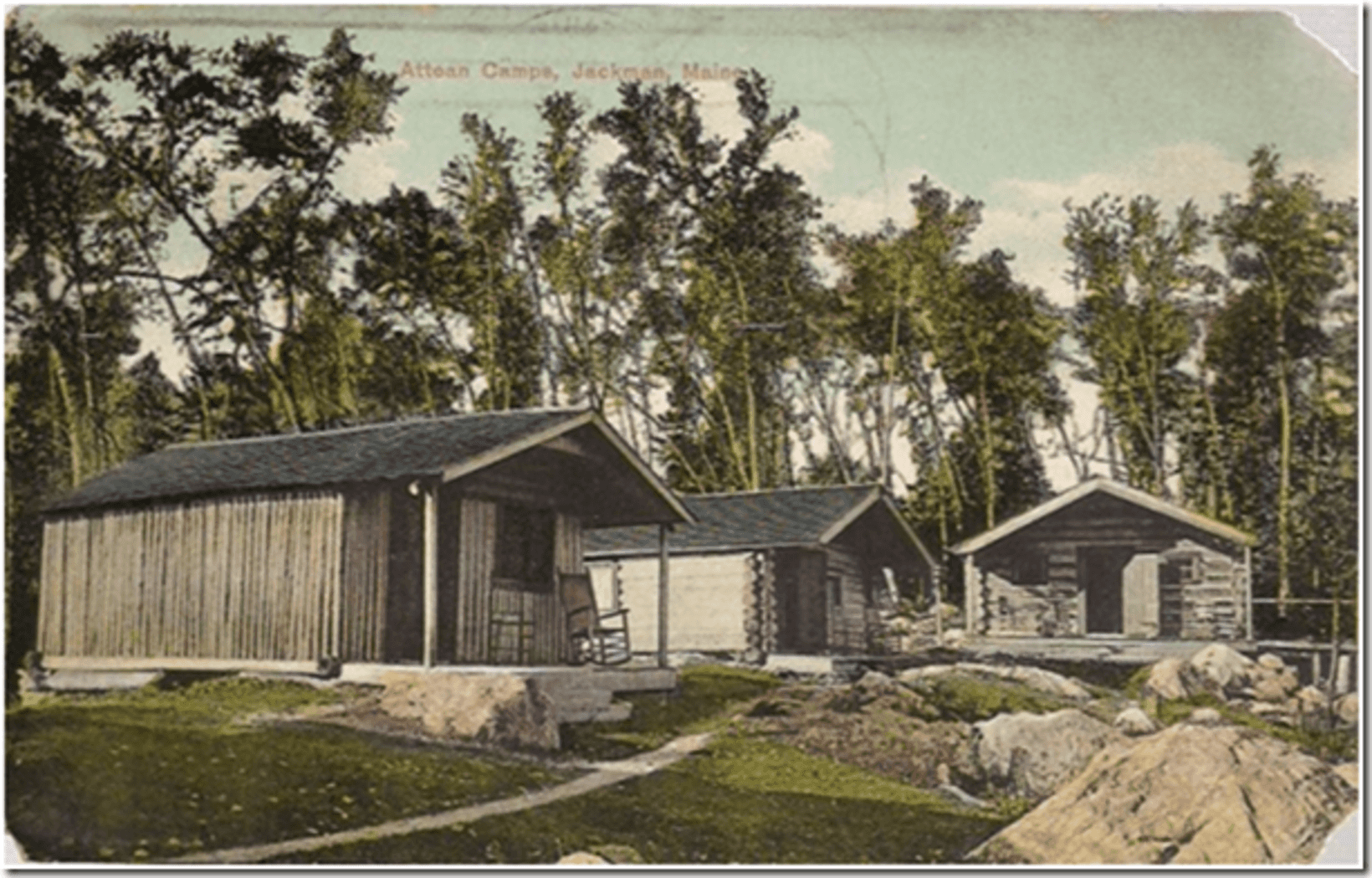 History
Attean Lake Lodge has been greeting guests since 1893 when Ithamar Howe, of Lowell, Massachusetts, as "Lessee and Proprietor of Attean Lake Sporting Camps", advertised "Visit the New Fishing and Hunting Resort at ATTEAN LAKE" in the June 1, 1893, issue of Shooting and Fishing. Further ads of Attean Camps appeared in Forest and Stream throughout that summer and into September.
The 1894 June issue of Maine Sportsman reported "Lewis Smith, of Jackman, game warden and proprietor of the Attean Camps, was drowned recently at Attean Rips, by the upsetting of a boat. He with others was getting some boats down to the pond and instead of carrying past the rips as the others decided to do, ventured to make the run." His body was not found in the lake until July of that summer.
John Thomson McLaughlin, of Rahway, New Jersey, first advertised his Attean Camps, Jackman, Maine, in the August 18, 1895, issue of the New York Herald as a place "for sportsmen and families; unique log cabins, comfortably furnished and charmingly located; 18 square miles of the best fishing and hunting grounds in Maine."
The following spring, of 1896, John was joined by his wife, the former Elizabeth Andrews Dyer, and three sons on Birch Island for the summer. Unfortunately, John died from complications of an appendectomy operation on May 20, 1896, and was buried in the Whipple Cemetery, Jackman, Maine. Elizabeth Dyer McLaughlin continued as the proprietor of Attean Camps until 1899 when the business was sold to Sullivan Newton of Jackman.
 Following the proprietorships of Sullivan Newton, C. S. Cook of Boston, and Fred C. Henderson of Jackman, brothers Henry L. and Ruel E. Holden of Jackman purchased Attean Camps in 1905. Four descending generations of Ruel and Etta (Connors) Holden have continued to maintain this unique island retreat on Attean Lake "the most beautiful lake in Maine" for over 127 years.
J. Harlan Buzby- Summer 2020
Postcard from 1913
Left: 'Manhattan'
Center: 'Portland'
Right: 'Walden' This camp was first known as the "Casino"
The two camps on the right are the only camps dating from 1895 that exist today from the McLaughlin/Sullivan era.